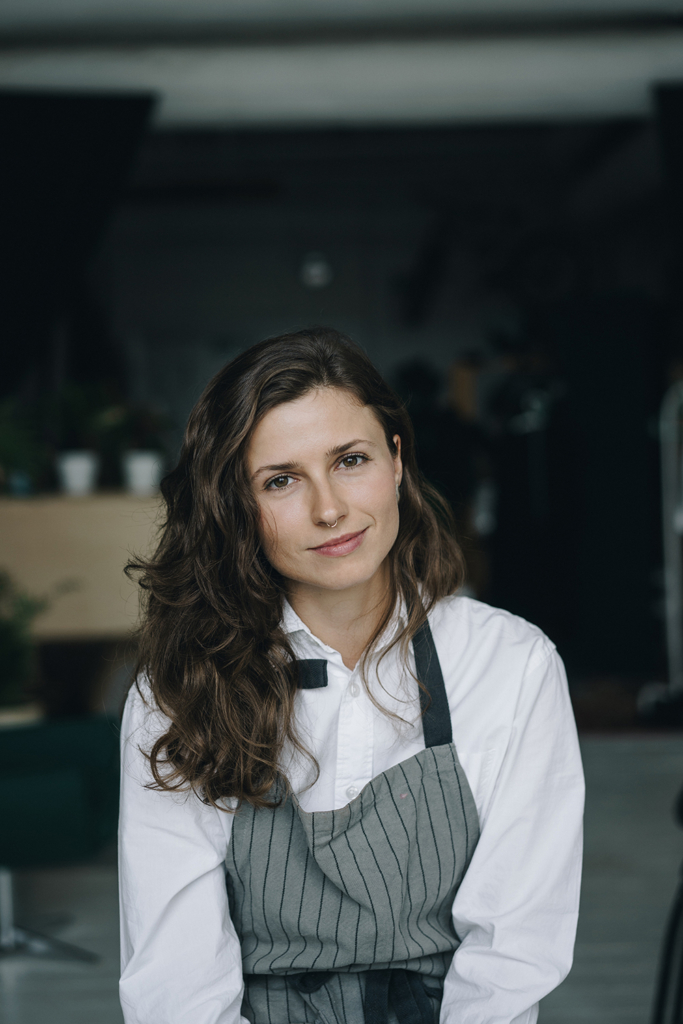 You might remember Alina Zee from the Man vs. Child cooking show. You might remember her as a guest in the Hallmark series Home & family and the video Alina Zee cooks.
The truth is, Zee is so much more than a (pretty) TV face. She is a talented, quick-witted, Los Angeles-based private chef that has been cooking for celebrities for the past ten years. She has also worked in some of LA's hottest restaurants, including Beast, Piccolo, and Chique. Nowadays, she is on a path to become an entrepreneur.
It's time you get to know the real Zee.
1. Hi, Alina! It's been a long time since we sat down and chatted over a cup of coffee. I think I haven't seen you in two years.
Alina: Has it been that long?! Wow! Well, we both have such hectic lives, no wonder it has been two years since our last get-together. But, I swear I saw you in LA about two-three months ago.
2. Yeah. We bumped into each other at Nobu. But, that doesn't count, girl.
Alina: Yeah, I'm not a fan of the "over-the-table talks" either. (laugh)
3. So, tell me, and the Repasto readers, where can we find you these days and what have you been up to in the past year or two?
Alina: You can find me running through LA all day, every day. (laugh) I'm currently working as a sous-chef at Chique, and I still work as a private chef, mostly on the weekends.
The last few months were pretty busy, as I'm planning on opening my own restaurant in March. Two, actually, one in downtown LA, and one in Calabasas.
5. Spending a year just on planning is a lot, and I am sure you used that time wisely. But, I must ask you, has the time you spent working at several restaurants helped you plan the steps and be a bit more prepared to open your own business?
Alina: I am not sure that I had a chance to see the business side of running a restaurant.
For example, you already know that the first steps I made as a chef were at the Post, where I worked next to the Chef Daniel LeFerre. He gave me a trial period, and I had about a month or two to show him my skills. He "tortured" me by making me work Friday-Saturday shifts. And that is how I learned to do things as fast as possible. I further developed my skills at Beast, a rustic Italian restaurant. There, I learned how to be a butcher and run a kitchen. But, during all that time, I had no access to official restaurant documents, nor did I know how well the restaurant, or in this case, restaurants, were doing, business-wise. I knew we were doing fine 一 the guests always kept coming back, and they loved the menus we came up with. But no one ever said anything about expenses, profits, etc.
6. I understand exactly how you are feeling 一 opening a restaurant pushes you to think in another direction, and always to have numbers on your mind. And it's frightening. I assume you had help.
Alina: Yes, I have a whole team of financial advisers that have my back. I don't know what I would do without them! (laugh) I also spoke to a number of chefs that opened their restaurants.
Actually, remember when I reached out to you and asked about your food and beverage suppliers? Was it like 7-8 months ago? At that time, I was only thinking about opening a restaurant, and I wanted to check whether I am in over my head or not. (laugh)
7. Yeah, I do remember. I also remember that you didn't mention anything about a restaurant opening, but I got pretty suspicious. To me, you've always seemed like the girl that will take over LA with her fantastic cooking aesthetic and modernist techniques. Trust me, you have what it takes to open a restaurant.
Alina: Aw, thank you. Your support means a lot.
8. Can we go back to your roots for a moment? How did you make a career out of cooking food? Where did you learn how to think and work like a chef?
If you want to find out more about Alina and check out the rest of the interview, be sure to visit Alina Zee's youtube channel.